Education & Careers
-- Hydrogen Newsroom --
NEW ISSUE - Hydrogen Today 30-1 (2019)
---

Sign up under HYDROGEN ASSOCIATION in Mesa, Arizona, and Amazon will make a donation to the AHA for every purchase you make.
Nikola Motor Company, which will build a fuel cell semi-truck factory in Coolidge, Arizona next year, has already bought 448 NEL A485 [485 cubic meters H2/hour] electrolyzers to start installing a North American hydrogen refueling infrastructure. They plan to have 700 stations open to the public by 2028.
Toyota and FuelCell Energy (Danburt, CT) plan to build a megawatt renewable hydrogen plant and fueling station at the Port of Long Beach, California. The Tri-Gen plant reform biogas into electricity, heat and hydrogen.
Is there a future for hydrogen internal combustion engines? An excellent comparison between gasoline and hydrogen.
Metrol Fuel - What could be better than turning garbage and air into liquid fuels? - See the video !!!
As maritime low-sulfur emission regulations go into effect in 2020, some shippers are returning to sails instead of expensive scrubbers or natural gas conversions.
Join Our Weekly Online Forum - Thursdays 6:30PM to 7:30PM Arizona Time.
Please join our conversation from your computer, tablet or smartphone.
Click the Link to Join: https://global.gotomeeting.com/join/373085893
You can also dial in using your phone. (646) 749-3122. Access Code: 373-085-893
-- Publications --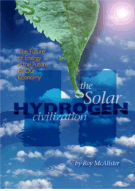 (Free book with AHA membership)
---